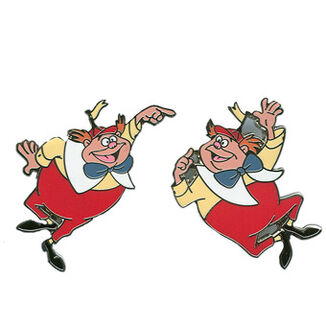 Tweedle Dee and Tweedle Dum
 are the two child like men from Disney's 
Alice in Wonderland
. The Tweedles are two fat brothers dressed in school boy uniforms and wearing propeller caps. They take particular delight in reciting poems and songs. Their playful and jolly which can seem a little annoying. They enjoy company and will always insist in a little game. They also have the ability to multiply.
Ad blocker interference detected!
Wikia is a free-to-use site that makes money from advertising. We have a modified experience for viewers using ad blockers

Wikia is not accessible if you've made further modifications. Remove the custom ad blocker rule(s) and the page will load as expected.