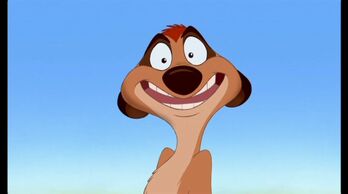 Tim​on is a meerkat and one of Simba's friends and Ryan helped Timon and Pumbaa take care of Simba and helped Simba defeated Scar and saved the Pride Lands. He's often conceited and boastful, often taking credit for Pumbaa's ideas, but he is, all in all, a true friend. When something funny happens, he, along with Pumbaa, will burst into hysterical laughter.
Timon had his first apeerance as a guest star in Kids World's Adventures of Scooby-Doo on Zombie Island, The Chronicles of Narnia: The Lion, the Witch and the Wardrobe, Madagascar: Escape 2 Africa, The Muppet Movie, Fantasmic!, The Haunted Mansion, Animagique, The Enchanted Tiki Room, Hocus Pocus, Sorcerers of the Magic Kingdom, The Hunchback of Notre Dame, Ghostbusters, Babe, Labyrinth, Babar: The Movie, The Chipmunk Adventure, Swiss Family Robinson, The Black Hole, Kids World/Indiana Jones movies, Freddie as F.R.O.7, Old Yeller, Honey, I Shrunk the Kids, James and the Giant Peach, Mad Scientist,  Star Fox 64, Madly Madagascar, VR Troopers, Superhuman Samurai Syber Squad, Big Bad Beetleborgs, The Lion King 1 1/2, Star Fox 64, My Little Pony: Friendship is Magic, Phineas and Ferb, Phineas and Ferb: Across the Second Dimension, My Little Pony: Equestria Girls, Scooby-Doo! Mystery Incorporated!, Plus Many More!
Ad blocker interference detected!
Wikia is a free-to-use site that makes money from advertising. We have a modified experience for viewers using ad blockers

Wikia is not accessible if you've made further modifications. Remove the custom ad blocker rule(s) and the page will load as expected.