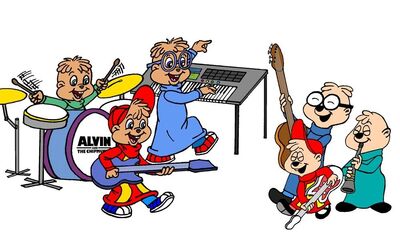 Based on the episode "Back to Our Future" from "The Chipmunks Go To The Movies." I made small changes to compared to the actual scene. Here I have Simon on keyboard (originally playing drums), Theodore on drums (originally playing the keyboard), and 60's Simon's bass is smaller. Made this drawing for their song "The Alvin Twist (Remix)" where The 60's (the 50's in the episode) and 90's Chipmunks sing against each other on whether the 50's Chipmunks go back to their time or stay in the 90's thime.
Ad blocker interference detected!
Wikia is a free-to-use site that makes money from advertising. We have a modified experience for viewers using ad blockers

Wikia is not accessible if you've made further modifications. Remove the custom ad blocker rule(s) and the page will load as expected.