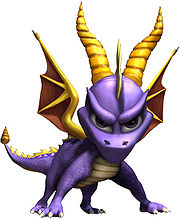 Spyro is a small but tough purple dragon, he faced alot of enemies bigger then he is.
the Shell Lodge Squad helped him saved Cynder from her own darkness and the villain leage.
Ad blocker interference detected!
Wikia is a free-to-use site that makes money from advertising. We have a modified experience for viewers using ad blockers

Wikia is not accessible if you've made further modifications. Remove the custom ad blocker rule(s) and the page will load as expected.