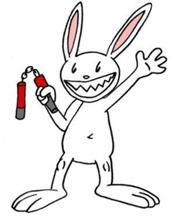 Sam and Max
are two well train but wise creaking freelance cops, who are the members of the Shell Louge Squad, but being true to their Freelance name, also part of the Team C.A.T. group and also joined with Ryan, Winnie The Pooh, Ash, Littlefoot, Tai, Stan, Alex, Simba, Jacob NightFury, Reese, Ryndall and the rest of the characters in Kids World's Team Adventure.
It's also revealed that they, along with Brandy and Mr. Whiskers, that they are digimon hybreeds, but such powers are never shown in the Kids World's Adventures series.
In the Kids World's Adventure Series, they have known Jacob NightFury as their partner in crimefighting.
Sam and Max are also members of the Kids World's Adventures team.
Ad blocker interference detected!
Wikia is a free-to-use site that makes money from advertising. We have a modified experience for viewers using ad blockers

Wikia is not accessible if you've made further modifications. Remove the custom ad blocker rule(s) and the page will load as expected.