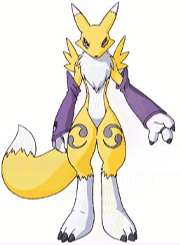 Renamon
is a very hot chick Rookie Fox Digimon who is Rika Nonaka's partner in Digimon: Tamers; but in the Kids World's Adventures Series, she is Dave's partner after he received his D-Power shortly after living in an abandoned cabin in the woods. Many Digimon appeared to ask Dave to be their tamer, but at the end, Dave said that he wanted only one strong Digimon as a partner. Then a blue card came, and Dave swiped it through his blue D-Power (which is the same color as Rika's D-Power). Dave then wished that Renamon was his partner, and Renamon remained as Dave's companion throughout Kids World's Adventures.
Ad blocker interference detected!
Wikia is a free-to-use site that makes money from advertising. We have a modified experience for viewers using ad blockers

Wikia is not accessible if you've made further modifications. Remove the custom ad blocker rule(s) and the page will load as expected.