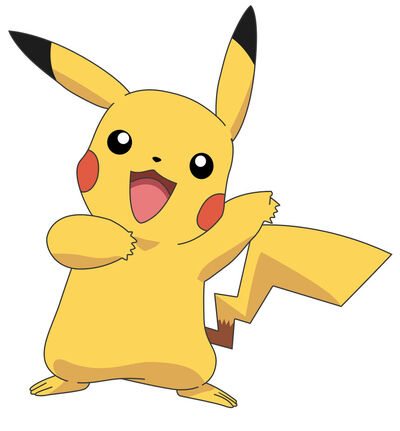 Pikachu is one of Kids World's friends and Ash's best friend in the Kids World/Pokémon films. Pikachu is an Electric type Pokémon, often dealing powerful shocks to any enemies who cross him. He's also fiercely loyal to his friends, especially Ash, his trainer. He and Ash Ketchum are the founders and leaders of the Kids World's Adventures Team.
Pikachu is voiced by Ikue Ōtani.
Pikachu joined Kids World's Adventures Team had its first apperance in Kids World's Adventures of Mulan, The Secret of NIMH, Star Wars saga, The Chronicles of Narnia: The Lion, the Witch and the Wardrobe, Atlantis: The Lost Empire, The Land Before Time II: The Great Valley Adventure, 3 Ninjas, The Karate Kid, Part II, Home on the Range, Journey to the Center of the Earth, South Park: Bigger, Longer & Uncut, Hook, Free Willy, The Black Cauldron, Ghostbusters II, The Muppet Movie, the Kids World/TMNT movies, 101 Dalmatians, the Kids World/Back to The Future movies, The Secret of Kells, Willow, The Princess and the Frog, Snow White and the Seven Dwarfs, Rockin' With Judy Jetson, The Road to El Dorado, The Santa Clause, Osmosis Jones, Ryan's World of Color, Disneyland Fun, Hocus Pocus, Annie, The Brady Bunch Moive, The Black Hole, 20,000 Leagues Under the Sea,  Happily Ever After, Mighty Ducks (TV Series), the Kids World/Indiana Jones movies, Freddie as F.R.O.7., Yogi Bear and the Magical Flight of the Spruce Goose, Lilo & Stitch, Tron, Avatar, The Outsiders, Ponyo, Home Alone, Meet the Robinsons, Cheaper by the Dozen, Tweety's High Flying Adventure, Looney Tunes: Back in Action, The King and I, James and the Giant Peach, Mighty Joe Young, Honey, I Shrunk the Kids, The Incredibles, Tangled, Night at the Museum, TaleSpin, Problem Child, Rock and Rule, The Princess and the Goblin, The Adventures of the American Rabbit, The Indian in the Cupboard, Rio, Mad Scientist, Condorman, BraveStarr: The Legend (and its TV series), Andre, Jack the Giant Killer, VR Troopers, Krull, Superhuman Samurai Syber Squad, Yogi's Gang, Yogi's Treasure Hunt, Dumbo's Circus, Big Bad Beetleborgs, Pete's Dragon, Fantasia, Mary Poppins, Plus Many More! and Jeffrey has a Pikachu.