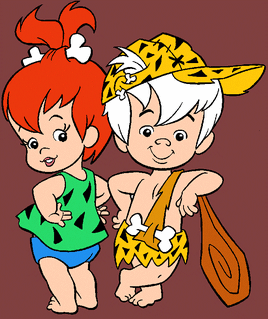 Pebbles Flintstone-Rubble
 is Fred and Wilma's cute and very beautiful daughter in 
The Flintstones
 who eventually became an teenager in 
Pebbles and Bamm-Bamm 
and grown up in 
I Yabba Dabba Doo
 and 
Hollyrock-a-Bye-Baby
and 
Bamm-Bamm Rubble
 is the Rubbles' abnormally strong adopted son. His name comes from the only phrase he ever speaks as a baby: "Bamm, Bamm!" Bemm-Bamm even eventually grew up with Pebbles.
Ad blocker interference detected!
Wikia is a free-to-use site that makes money from advertising. We have a modified experience for viewers using ad blockers

Wikia is not accessible if you've made further modifications. Remove the custom ad blocker rule(s) and the page will load as expected.