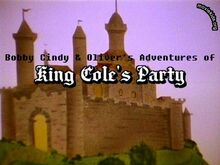 Kids World's Adventures of King Cole's Party is another new upcoming movie by 20th Universal Goodtimes Century Paramount Productions. It will appear on YouTube and Google Drive somewhere in the near future.
Jack, Jill, Mary, and Little Boy Blue journey toward King Cole's palace to joinhim and his other subjects in celebrating 100 years of peace in the kingdom, bringing various gifts: a kitten, a pair of mittens, and a fuzzy blanket, among other things. The main message is that the best gifts come from the heart, but it also teaches the importance of helping others and using good manners with Ryan, Pooh, Littlefoot, Bobby Brady and the rest of the gang.
"Old King Cole"
"Betty Botter"
"Pat-A-Cake"
"Polly, Put the Kettle On"
"Sing a Song of Sixpence"
"Peas Porridge Hot"
"Jack and Jill"
"Mary Had a Little Lamb"
"Little Boy Blue"
"Walking Chant"
"Six Little Ducks"
"There Was a Crooked Man"
"Wibbleton to Wobbleton"
"Sea-Saw, Sac-Ra-Down"
"This Old Man"
"Humpty Dumpty"
"Little Bo Peep"
"Little Jack Horner"
"Little Miss Muffet"
"Rub-A-Dub-Dub"
"Jack, Be Nimble"
"Little Tommy Tucker"
"Peter Piper"
"Old King Cole (Crossover reprise)

"
Greg, Marcia, Peter, Jan, Matthew, Dwayne, Steve, Millicent, DJ, Stephanie, Michelle, Kimmy Gibbler, Malcolm, Mallory, Reese, Renee, Dewey, Daisy, Alex, Nicky, Emily Yeung, Daniel Cook and the rest of their characters guest star in this film.
Ad blocker interference detected!
Wikia is a free-to-use site that makes money from advertising. We have a modified experience for viewers using ad blockers

Wikia is not accessible if you've made further modifications. Remove the custom ad blocker rule(s) and the page will load as expected.