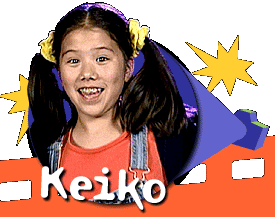 Hey! I'm Keiko.
Keiko was an obvious choice for the first season because of her braces. Every successful caste needs a metal mouth. "Wait!" you may shout, "But no one since the Cake-meister has had braces!" That's exactly the point. The first cast was the only success, and all the following were just mere shadows of the initial success. Keiko's only appeal were her braces. Nothing else was special about her. Remember that reunion episode? It was like she had gone all mime on us or something. She let that little witch Caroline walk all over her! As a matter of fact CAKE, I don't think your name ever deserves to be associated with the Zoom phenomena! You should be ashamed of yourself! I'm outgoing and love to run, swim, dance, bike and in-line skate. I think other ZOOMers would describe me as sweet, intelligent and gullible. My favorite part of the ZOOMweb site is ZOOMer 101. Sometimes it even stumps me! I love CafeZOOM, and at home I love to cook pork chops or eat pizza for breakfast, but only once in a while! When I grow up, I want to be a pediatrician for special needs kids and help to end discrimination. Since starting ZOOM, I've grown a little taller and don't have braces anymore. Being on ZOOM has been great and getting recognized is really cool. But my favorite thing about being a ZOOMer is just playing in the ZOOMroom, our own space for hanging out between taping. That's the best!
Ad blocker interference detected!
Wikia is a free-to-use site that makes money from advertising. We have a modified experience for viewers using ad blockers

Wikia is not accessible if you've made further modifications. Remove the custom ad blocker rule(s) and the page will load as expected.