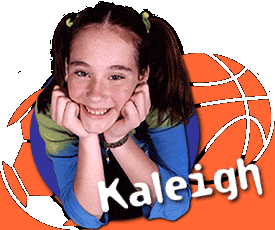 Kaleigh
 was born in 1989. She goes by the nick name 
Kale.
Kaleigh can play play the Saxophone, and is a beginner Guitarist.
Her training includes Jazz, Tap and Ballet, Musical Theater Classes, Vocal Instruction, Member of Select Jazz Choir, All State Honors Jazz Chorus
DiscriptionEdit
My nickname is Kales. I love to have fun and be silly with my friends. If you asked other ZOOMers to describe me, I think they'd say I'm brave, adventurous, grounded and fun to play with. I live with my mom, my dad, and my eight-year-old sister. My favorite thing about school is my teacher, but I also really like science and math classes. Hobbies? Let's see . . . soccer, basketball, singing, dancing and playing the saxophone.
On the ZOOMset, I'm famous for my Britney Spears in Ubbi Dubbi impressions! When I'm not at CafeZOOM chewing on Chocolate Bowls, you can probably find me eating a bowl of mac and cheese! My favorite ZOOMactivity is ZOOMplayhouse. When I cruise the web, I'm sure to make a stop at the ZOOMer 101 Quiz to test my own ZOOMer knowledge!
And to all the ZOOMers out there: I'm really glad you enjoy watching ZOOM. It is so much fun to make. The ZOOMactivities are great, and I hope you enjoy playing them at home. Thanks for tuning in!
Kaleigh QuotesEdit
I have two hamsters, Jack and Broderick
Basketball and Soccer are my favorite
Where are they nowEdit
Kaleigh graduate from Manchester Central High School in Manchester, NH in 2007 and recently graduated from Carnegie Mellon University in 2011.
Kaleigh is now appearing on the Second National Tour of the Tony Award Winning Musical "Jersey Boys".
This Spring, Kaleigh will be making her Broadway Debut as "Lulu" in the Roundabout Theater Company's Revival of Cabaret at Studio 54 starring Alan Cumming and Michelle Williams. The production will begin previews on March 21st, 2014 and Opening Night is set for April 24th, 2014 playing for a limited 24 week engagement.
Kaleigh was a ZOOMer in seasons 9-10 (2001-2002).
Ad blocker interference detected!
Wikia is a free-to-use site that makes money from advertising. We have a modified experience for viewers using ad blockers

Wikia is not accessible if you've made further modifications. Remove the custom ad blocker rule(s) and the page will load as expected.