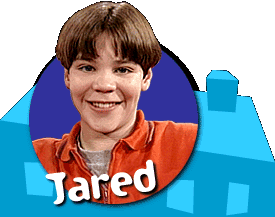 Jared P. Nathan 
(August 10, 1985 - December 28, 2006) was a former cast member on ZOOM.
Biography
Edit
Jared was born on August 10, 1985, in Nashua, New Hampshire. Jared performed in many theater productions at his local performing-arts group, the American Stage Festival, with the young company Peacock Players.
Nickname:
Dr. Funklove
DescriptionEdit
I'm optimistic, smart and outgoing. Besides that, I love to talk with my mouth shut! I think other ZOOMers would describe me as very funny and creative. When I grow-up, I'd love to be a movie director and make blockbuster movies. I love to listen to Aerosmith, watch WWF on TV and surf the web. And speaking of the web, the Ubbi Dubbi Translator is one of the best parts of the ZOOMweb site. Chubeck ubit ubout!
My silliest ZOOMmoment had to be when I played Miss America in a ZOOMplayhouse. But one of the best things about being a ZOOMer was helping Anthony, a ZOOMcrew member make ZOOMgifts for everyone who worked on ZOOM
After school, I love to go Rock Climbing
The Best thing about being on ZOOM was making 6 really good friends
Jared was a 21 year old and a third-year acting student at Juilliard School in New York City when he died.
Dec. 28, 2006 ~ Jared was a passenger in a car that drove off the road and hit a tree in the early morning, fatally injuring him. The 19-year-old driver was charged with aggravated drunken driving.
Jared Nathan
250px

Name:

Jared P. Nathan

ZOOM Seasons:

1 (1999)

Born:

August 10, 1985   Nashua, NH

Died:

December 28, 2006 (aged 22)