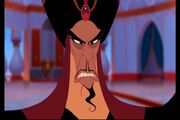 Jafar 
(voiced Jonathan Freeman) is an evil sorcerer who is the main villain in 
Kids World's Adventures of Aladdin
, Jafar tries to use Genie's powers to take over Agrabah, first wishing to become the sultan, and then the most powerful sorcerer in the world. After battling Aladdin with his questionable sense of humor, Jafar transforms himself into a giant cobra in an attempt to kill Aladdin. but just as the snake was about to reign triumphant, Aladdin (with help from Ryan Mitchell and his teams) tricks Jafar into using his third and final wish to become an all-powerful genie. Jafar is therefore trapped by his own wish for power. Jafar returned under the command of Steve and the SALF Agents to steal the keyhole of the Arizonan Desert, resurrecting Maleficent to help the villains better.
Jafar became Kids World's enemy in Kids World's Adventures Series.
Ad blocker interference detected!
Wikia is a free-to-use site that makes money from advertising. We have a modified experience for viewers using ad blockers

Wikia is not accessible if you've made further modifications. Remove the custom ad blocker rule(s) and the page will load as expected.