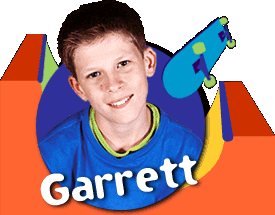 I'm Garrett.
Garret's the token local yokle. His whole facade screams "HICK!!" He reminds me of those people that sit on their porch and wave at the train for entertainment. Obviously he needs to be from some where in the Boston area to be on this show, but I just don't care. He's a hick! The haircut, the ears... oh those ears. His ears are like the token fatty of the season. It would be too childish and easy to make Dumbo jokes about them, so I won't. I just wish he was born a few years earlier. He would have been such a beautiful addition to "The Waltons"...yes, there is something very "Little House on the Prairie" about that boy. If you asked other ZOOMers to describe me, I think they'd say I'm exuberant and silly (when I'm not napping). I'd say that I'm also respectful of other people. I live with my mom, dad and sister who are always there to cheer me on in sports. One of our cool family traditions is that my dad and I make fried dough on Sunday mornings. On the ZOOMset, I'm famous for doing impersonations and the rendition of "On Top Of My Pizza" that I sing with Matt when we are chefs for the Pizza Place. My favorite ZOOM activities are ZOOMsci, especially the Lemon Battery activity. The goofiest thing I've done on ZOOM is acting like I'm on a soap opera for the play Ya Reckon. So be sure to check it out in ZOOMplayhouse!  To all the ZOOMers out there: Thanks for watching! Keep ZOOMin' everyone and follow your dreams!
Ad blocker interference detected!
Wikia is a free-to-use site that makes money from advertising. We have a modified experience for viewers using ad blockers

Wikia is not accessible if you've made further modifications. Remove the custom ad blocker rule(s) and the page will load as expected.