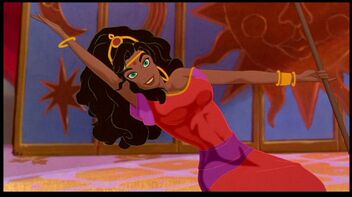 Esmeralda
 is a gypsy woman who falls in love with Phoebus and meets Quasimodo. Although, she doesn't like Judge Frollo who wants her to choose him. Quasimodo rescues Esmeralda from getting burned. Esmeralda met Ryan, Winnie the Pooh, Ash Ketchum, Simba, Littlefoot, and their friends in 
Ryan Mitchell (Foster) & The Gang Meets The Hunchback of Notre Dame
.
Esmeralda met Ryan, Ash Ketchum, Simba, Littlefoot, and the rest of their friends in Kids World's Adventures Series.
Ad blocker interference detected!
Wikia is a free-to-use site that makes money from advertising. We have a modified experience for viewers using ad blockers

Wikia is not accessible if you've made further modifications. Remove the custom ad blocker rule(s) and the page will load as expected.