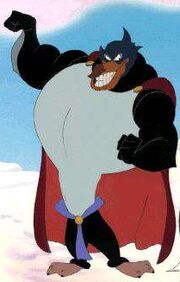 Drake
 is an evil penguin who is the main antagonist in 
The Pebble and the Penguin
. He made his first appearance in a Kids World's Adventures film in the Disneyland version of
Ryan, Winnie The Pooh & The Gang In Fantasmic!
 as Ursula's bodyguard. He was killed off in the finale by Mickey Mouse along with the other Non-Disney and Disney villains.
Drake will get revenge on Ryan, Pooh and the rest of the characters in Kids World's Adventures of The Pebble and the Penguin, and Kids World's Adventures Series.
One day, Frank N Furter took Columbia to Disney's Hollywood Studios and for some f**ked up reason, the Fantasmic show was replaced by the sh***y version of Fantasmic Drake was in! Frank called the police, and they arrested Leo and his friends! As a punishment, they now have to work at the castle of Frank's worst nemisis, Monty Saint Helens, and due to this, Frank felt a special kind of HOR-NAY!
Ad blocker interference detected!
Wikia is a free-to-use site that makes money from advertising. We have a modified experience for viewers using ad blockers

Wikia is not accessible if you've made further modifications. Remove the custom ad blocker rule(s) and the page will load as expected.