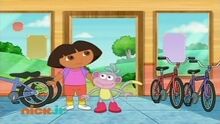 Boots' First Bike is the 7th episode of Kids World's Adventures of Dora the Explorer from season 6.
Characters present
Edit
Dora
Boots
Ryan
Pooh
Backpack
Map
Alvin
Boots
Baby Kermit
Baby Bugs Bunny
Fiesta Trio
Huey
Dewey
Louie
Fiesta Trio
Plus Many More!
It's a big day of "first things" when Dora, Boots and Kids World's Adventures Team head to the Bike Shop to pick up Boots' very first bike! On the way, we help Benny, Lil' Piggy, and Baby Blue Bird with some very special "first things" too!
Swiper doesn't appear on this episode.
This is the 128th episode of the show.
Autotune is used for the Travel Song in this episode.
Ad blocker interference detected!
Wikia is a free-to-use site that makes money from advertising. We have a modified experience for viewers using ad blockers

Wikia is not accessible if you've made further modifications. Remove the custom ad blocker rule(s) and the page will load as expected.