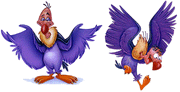 Arthur and Cecil
 are two wacky villainous vultures from the TV show, 
Jungle Cubs
 who are two of Kids World's enemies. They sometimes appear in the Kids World's Adventures movies and in a few Kids World's Adventures films. It is announced that they may become Kids World's enemies including Sora's Rivals, and may soon become Kids World's greatest eneimes.
Arthur and Cecil became Kids World's enemies in Kids World's Adventures Series.
Ad blocker interference detected!
Wikia is a free-to-use site that makes money from advertising. We have a modified experience for viewers using ad blockers

Wikia is not accessible if you've made further modifications. Remove the custom ad blocker rule(s) and the page will load as expected.