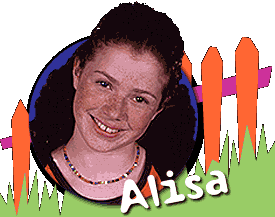 Alisa Besher 
was born on October 3, 1985, in Moscow, Russia.
During her auditions she said if she spoke to someone she didnt know, they would.
One day while at recess, some kid yelled out "The Russians are coming" and Alisa thought that he might not have known that she was a Russian
Nickname: Lisa
Description
Edit
I'm funny, outgoing, crazy and a little disorganized. I think other ZOOMers would say I'm creative and silly. When I'm not on the ZOOM set, I enjoy school and hanging out with friends. During the summer, I'm a Counselor in Training at a local camp where I get to work with lots of kids.
The silliest thing I've ever done on ZOOM is dress up in crazy outfits for the plays! Zmail is my favorite part of this site. I check it out every week! The Butterfly Cake and Homemade Ice Cream are the most delicious ZOOMtreats, and my favorite ZOOMsci is the Rube Goldberg Invention. The best things about working on ZOOM have been going to the Emmy's and just relaxing in the ZOOMroom during taping.
I do think that being a ZOOMer has changed me. I'm better around crowds of younger kids, and the experience really helps me at camp. And I've met so many new people! I don't think that people really treat me differently, at least my friends don't. But I guess more people know who I am now. I think in twenty years I'll look back on my ZOOM experience and think, "Those were some of the best times of my life!"
And to all of the ZOOMers out there: Thanks SO much for watching! It's a great experience.
In March 2003, she was a Junior at NHS.
Alisa Quotes
Edit
Raspberries are my culinary fave
I love to wakeboard in the summer
She was a ZOOMer in seasons 7-8 (1999-2000).
Ad blocker interference detected!
Wikia is a free-to-use site that makes money from advertising. We have a modified experience for viewers using ad blockers

Wikia is not accessible if you've made further modifications. Remove the custom ad blocker rule(s) and the page will load as expected.